Request a demo today to discover how mJobTime and PowerTrack can save time and money while eliminating headaches. One of our time keeping experts will contact you shortly to learn more about your requirements and present a solution tailored to your needs.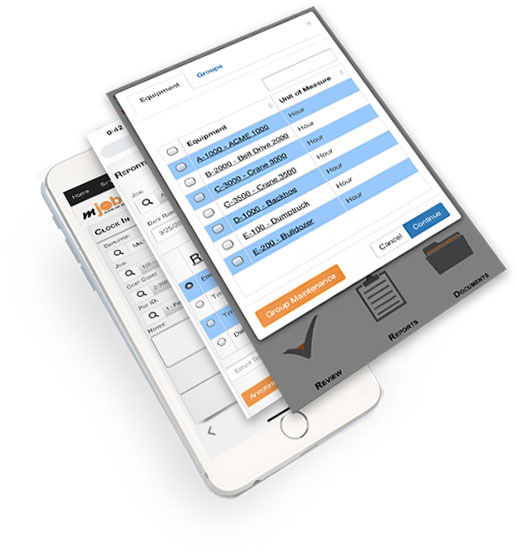 Track time cards, manage project costs, and optimize your operations all in real time,
mJobTime: The Most Flexible Mobile Job-Tracking Software in the Field
Labor Manager
Users can enter, review, edit, distribute, and approve labor hours worked using our mobile applications, web app, system manager console, and standalone time clocks.
Time can be entered in real-time or after-the fact by individual or crew and can be tracked by job, phase, cost code, pay code and other parameters.
Daily Field Manager
Enables contractors to build a detailed record of job site events . Companies can set up their own unique events such as weather, accidents, meetings, delays, and inspections. It is also used to track other important information such as production units, daily quantities, per diem and other expenses , and equipment meter readings.
Users of Daily Field Manager can also attach notes and pictures to any record and be notified when a record is created.
Equipment Manager
Permits the user to enter, review, edit, distribute, and approve equipment hours used. Time can be entered with an employee's time, separately by equipment, or by equipment group.
Equipment time can be tracked by job, phase, cost code, and other parameters
Budget Manager
mJobTime's Budget Manager allows the user to compare actual hours or units with budgeted hours or units.
Budgets can be tracked in total, by job, or by cost code
GPS Manager
The GPS Manager captures location data at each clock-in, task change, and clock-out and optionally sends notifications to managers for geofence violations.
Manage worker and crew locations by day, by job, and by employee using reports and on-screen maps.
Documents Manager
Allows users to share multiple file type documents from the field and office.
Users can also create form fillable templates that can be annotated, emailed, and saved to job folder.
Reduce errors and gain more control with document management options.